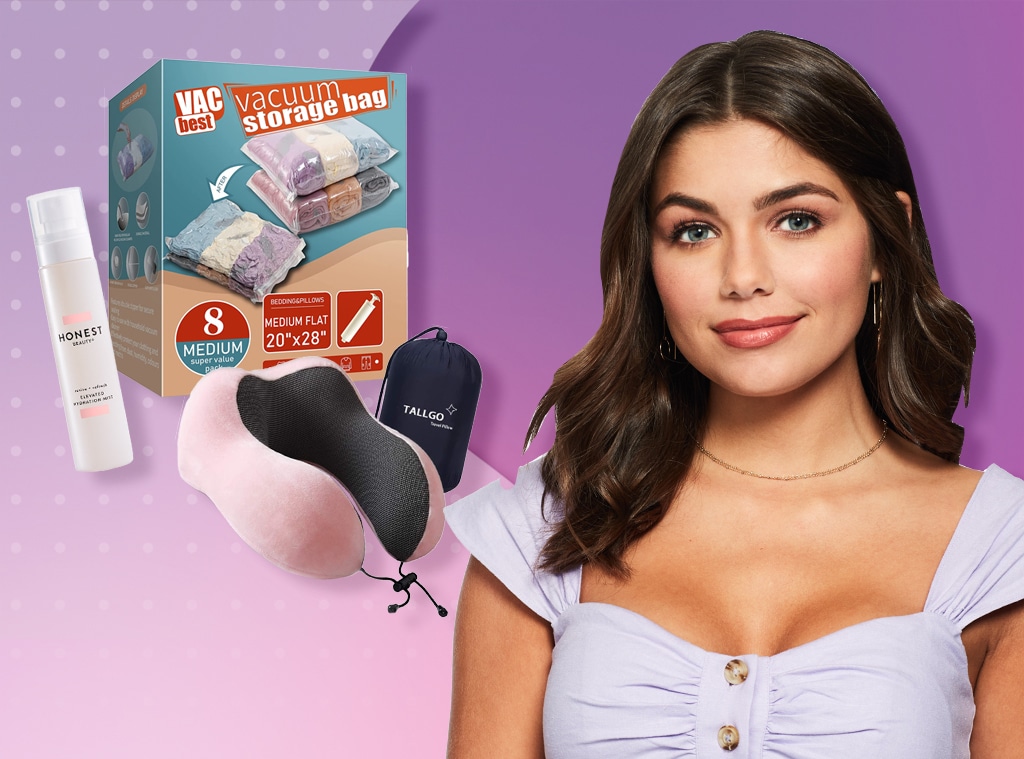 We love these products, and we hope you do too. E! has affiliate relationships, so we may get a small share of the revenue from your purchases. Items are sold by the retailer, not E!.
"Travel is back. I'm all here for it," Hannah Ann Sluss declared during a recent Amazon Live session. That is a sentiment that many of us agree with. It's so exciting to have fun plans on the calendar again, but, travel also means packing, which isn't the most fun task. Thankfully, the Bachelor Nation fan favorite has a go-to packing list that we can all use for guidance. She remarked, "I really want to show you guys the things that I brought and the things that I wish I brought when I was on trip. These are all my travel essentials, whether it's a car ride or a flight or even if you're just having a staycation over at your girlfriend's house, these are must-haves."
Hannah Ann explained, "Traveling is all about bringing the right products to simplify any hiccups." That is a mantra that we all need to keep in mind before a trip. Keep on reading to see Hannah Ann's Amazon must-haves and why she thinks they're so essential for travel.
read
Hannah Ann Sluss Shares Her 17 Amazon Kitchen Essentials
COOLIFE Luggage 3 Piece Set Suitcase Spinner Hardshell Lightweight with TSA Lock
"The number one thing that you have to have is a suitcase. The COOLIFE Luggage 3-piece set is my absolute go-to. There are several different colors. Of course, I chose the pink. Everyone needs a suitcase that's just going to be classic and durable. I like to pack more versus carrying something heavy. What I like about these suitcases is that they're very very light and they're durable as well. And the best part of it is that there's a 2-year warranty, which makes it super easy if you ever have any mess-ups."
"These are light. A lot of suitcases are heavy and they'll just take up a couple pounds when they weigh your bag at the airport. You don't want a heavy suitcase because you want to be able to pack more."
There are more than 15 colors to choose from and options to buy 4-piece sets as well.
VacBest Compression Bags, Travel Space Saver Bags for Clothes- Set of 12
"This is a miracle worker. These compression pouches are an absolute go-to because I'm the worst packer in history. I always like to have so many options. I pack practically my whole closet. That's why I get a 3-piece luggage set. These are really cool because you're able to pack more. This is just something that's great to have. It comes with different size bags as well. This is definitely something you have to have."
Matein Travel Laptop Backpack, Business Anti Theft Slim Durable Laptops Backpack with USB Charging Port, Water Resistant
"What I must have on a plane is a backpack. Some people like to carry a cute little purse. No, I have to have my backpack because I'm a girl that has a lot of baggage. You know what I mean by that one.  I also keep my tech case in here." There are multiple colors to choose from.
BAGSMART Electronic Organizer Small Travel Cable Organizer Bag for Hard Drives, Cables, Charger, Phone, USB, SD Card
"A must-have that I need on a plane is my tech case. I like this one because it's water-resistant. I don't like to dig in my bag wondering 'where's my charger?' because this definitely organizes it all for you. Also it keeps your stuff cool. When I'm traveling and my suitcases are sitting outside or in a hot car, I don't want any of my devices to get overheated. So, I'll put all my chargers in this." There are a lot of colors to choose from
Anker Portable Charger, PowerCore Slim 10000 Power Bank
"This is what I have in my tech case. This right here is a portable charger, which is a definite must because, if you're like me, you're always on your phone. You definitely want to keep your phone charged."
This one has 20,800+ 5-star reviews from happy Amazon customers.
Power Strip with 3 USB Ports, TESSAN 4 Wide Spaced Outlet Flat Plug Extension Cord
"I always bring this with me in my tech case. I started doing this when I was younger because whenever we would go on family trips, [my siblings and I] would always fight for the outlets. This will help with any problems you have. I bring it everywhere. It's very helpful if you're anywhere that doesn't have as many outlets as you'd like."
Travel Pillow, Best Memory Foam Neck Pillow Head Support Soft Pillow for Sleeping Rest, Airplane Car & Home Use
"Also, in my travel bag, is my pillow. This is something my grandma got me hooked on. Whenever I'm traveling, she says 'Make sure you get enough rest.' She's always thoughtful and she bought me a travel pillow. I wanted to include this because when you're traveling, you just want to be able to get sleep anywhere, so once you're there you can just hit the ground running. This is definitely something that you should bring with you. I love how you can take the covers off and wash them."
"I got the color pink, but there are also many different colors. When you're on a train, or a bus, or a car ride, this is a go-to. Plus, I like how you can fold it up and it's not going to take up much space in your bag."
GoHygiene Disposable Toilet Seat Covers- 40 Pack
"I keep toilet seat covers in my travel bag because I just can't do the whole squatting thing. So, I have to have these and they're so cheap. It really is something I always have to have, whether I'm on a plane or at a restaurant. I love how thin it is, so you can just slip it in your purse and not have any issues."
"This is a must for a road trip because when you're stopping at gas stations and fast food places, you want toilet seat covers."
Baby Bum Hand Sanitizer – Antibacterial Spray – Natural Fragrance Non-Drying Coconut and Aloe Formula Perfect for Sensitive Skin – Travel Size – 2 Ounce (Pack of 3)
"I love a good hand sanitizer. This is Baby Bum and it's green coconut. I'm crazy about making sure I have enough hand sanitizer on me. It smells really good too. When I was using this on the plane the other day, the person next to me said 'That smells good. This is a great find. It comes in a pack of three."
Lysol Disinfecting Wipes Lemon Scent 15ct in Resealable Travel Pouch (4 Pack)- 60 Wipes
"I always have Lysol Wipes with me. Every night before I go to bed, I wipe my phone down with this because your phone just gets nasty during the day. When I'm traveling I'll just wipe down surfaces, especially on a plane, I'll wipe my tray and seat down."
Listerine Cool Mint Pocketpaks Breath Strips Kills Bad Breath Germ- 72 Strips
"Another thing that I always have with me is Listerine Cool Mint Breath Strips. They just melt away in your mouth. I like this because when you're getting off a plane after a long day of traveling and you're meeting your friends, you definitely want to freshen up, but don't want to take time. This is such an easy fix."
Makeup Bag, BAGSMART Large Cosmetic Bag Travel Toiletry Bag Travel Makeup Case Organizer for Women
"This is a makeup bag that I really love to have. It's a little large, but if you're like me, you have a lot of beauty products." 
There are multiple colors to choose from.
Cetaphil Gentle Skin Cleansing Cloths 25 (Pack of 2), Fragrance free, 50 Count
"I like these Cetaphil cleansing cloths because they're great to wipe down your face and your body, especially after you've just been out in the sun at the beach. I bring these with me everywhere, especially after I work out. They work for dry and sensitive skin. I have very acne-prone skin and very sensitive skin. This is a brand that I've been using since middle school, and I haven't had any issues with it."
Honest Beauty Elevated Hydration Mist with Aloe, Watermelon Extract & Hyaluronic Acid
"I love Jessica Alba and I think I've tried almost all of her products. This is a great one. It's a hydrating mist. It also has aloe in it, which is great in the summer when you may be out in the sun a lot. It's very calming and it helps bring down the redness. This is awesome. Just shake it up and you can just apply it. And it smells really great. This is a definite must. You can just throw it in your beach bag or backpack so you have it whenever you need to freshen up."
Mossio Hanging Toiletry Bag – Large
"I love this because whenever you're in a tight hotel room or you're staying with a friend, you really don't want to have your stuff all over the bathroom counter. This is really great because you can hang it on the back of a door."
There are several colors and prints to choose from.
Sun Bum Hair Tripper Hair Care Travel Size Kit with Revitalizing Shampoo, Conditioner, Dry Shampoo, 3-in-1 Leave in Conditioner Spray and Comb-TSA Approved
"I love Sun Bum. If you haven't tried it, you have to immediately. This stuff smells so good. I love the dry shampoo. This kit has dry shampoo, and leave-in conditioner, which is really great and made with coconut oil. It's really refreshing. The kit also comes with a combing brush, which is really nice. So, I'll comb my hair out and then I'll apply the leave-in conditioner. The set also comes with shampoo and conditioner. And the products are good for color-treated hair because my hair has highlights and I've never had any issues with it."
Tile Mate 2-Pack -Bluetooth Tracker, Keys Finder and Item Locator for Keys, Bags and More
"This is Tile, which is a little chip that you can place on different things that you don't want to lose, whether it's your purse, your phone, or your keys, this is your go-to. You can place it on different items and track it through an app."
Beats Solo3 Wireless On-Ear Headphones
"These Beats are so cool. If you're traveling, or if you're watching a movie or something, these are really great because they definitely give you much better sound. I like to listen to all my music with these. They have up to 40 hours of battery life."
UBeesize 12'' Ring Light with Tripod
"A tripod is a go-to because you can film your TikToks on it or just film whatever. When my friends and I are all together and we don't have anyone to take our photo, we'll just bring a tripod and then we'll do a self-timer. This is definitely something that everyone has to have on a trip."
RXBAR Protein Bar, Fan Favorite Variety Pack- 12 Count
"Anyone who comes to my apartment will see a big jar of RXBARS. I like these because they are guilt-free. There's no added sugar in it. These are really great. They're 210 calories. My favorite is the Chocolate Sea Salt. I really like these because they're a nice wholesome snack that holds you over. I probably have at least one of these every single day."
SANKUU Large 1 Gallon/128oz Gallon Water Bottle Motivational with Time Marker & Straw
"This is great. It comes in a bunch of different colors. It's really great if you're going to be out at the beach all day and you don't want to spend all your money on waters. Just fill this up with ice and maybe a little bit of lemon and you're good to go. I drink water all day long. This definitely helps keep you accountable."
Khloe Kardashian is also a fan of motivational water bottles. And if you're looking for more options, check these out too.
If you're looking for more product recommendations from Hannah Ann, these are the items she keeps in her handbag. 
Want the latest and greatest deals and celebrity must-haves delivered straight to your inbox? Sign up for the Shop With E! newsletter!
[ad_2]

Source link