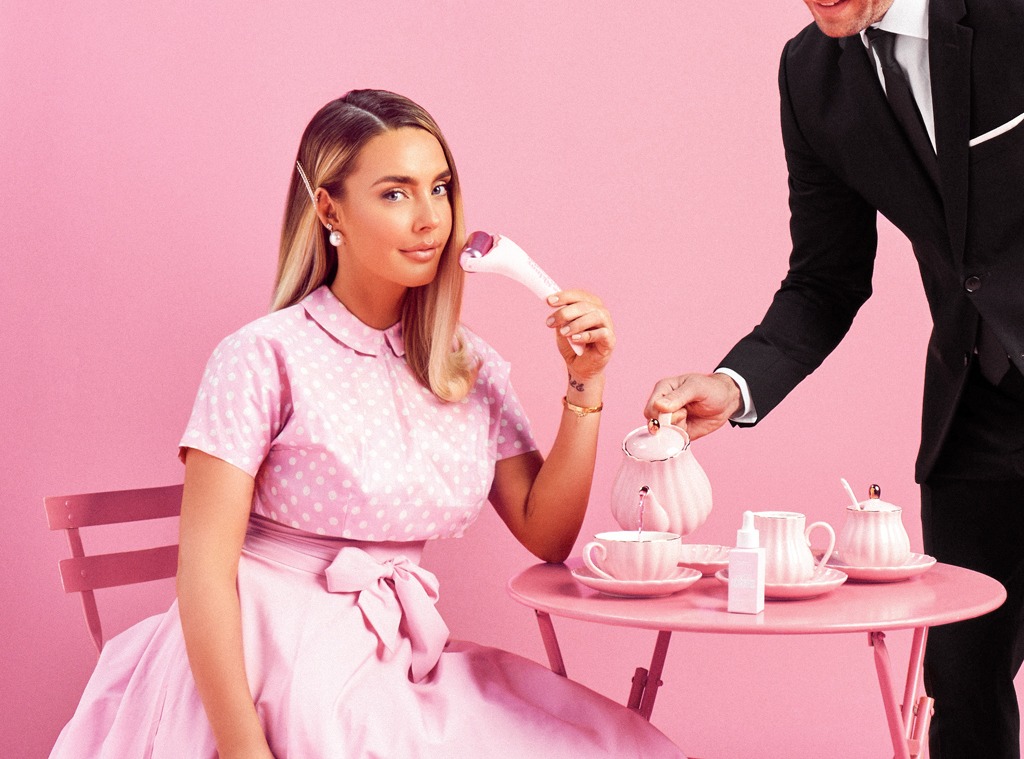 The Skinny Confidential
We independently selected these products because we love them, and we hope you do too. Shop with E! has affiliate relationships, so we may get a commission if you purchase something through our links. Items are sold by the retailer, not E!.
There are few people who can get us out of bed to get our credit cards when we're online shopping late at night, and one of them is Lauryn Bosstick. The Skinny Confidential blogger and podcast host is our go-to for all things wellness, lifestyle, beauty and pink! So, when she released her Hot Mess Ice Roller and Ice Queen Facial Oil, our jaws were on the floor and we couldn't look at our other face rollers the same. Luckily, E! had the opportunity to get all the details from the lifestyle guru herself.
"I was so sick of limp, crusty ice rollers that were plastic, falling apart and only held cold for 2 seconds. It was time to create something sturdy but also beautiful- the category needed something sparkly and fresh," Lauryn explained to us. "Something that people would be proud to have on their vanities, not thrown in the back of a drawer to collect cobwebs."
The Hot Mess Ice Roller, which took four years to develop, features a thick pink silicone construction with an aluminum rose gold roller. Besides being the most aesthetically pleasing ice roller on the market, this ice roller has legit magical powers.
"The Hot Mess Ice Roller stays cold AF. When I got home to LA, after being away for a month, I ran to my bedside and my ice roller was sitting there, still cold! Not freezing, but cold,"  the entrepreneur revealed."The ice roller stays colder than any other I've tried. It's also heavier (½ lb., others are ¼ lb.), more sturdy and made with a baby pink thumbprint specifically to help you apply extra pressure when needed without slipping."
And if you aren't already an ice roller fanatic like us, there are so many reasons to start. Ice rollers will reduce puffiness and redness, boost circulation and help your skin look and feel smoother among its many benefits.
"The main purpose behind the product's creation though, was to fix the puffiness and bloating right from the start," Lauryn explained. "So many people are focused on the moisturizers and eye creams to help with puffiness, but I wanted to create something that stopped the puffiness in its tracks."
Hot Mess Ice Roller
We would seriously leave the Hot Mess Ice Roller on our bedside table or work desk because it's just so pretty to look at! Not only is it super cute, it also helps reduces puffiness and redness, boosts circulation, promotes lymphatic drainage, shrinks pores, and tightens and tones the skin to give you smoother looking skin. Not to mention, it's great to use post-sunburn and after surgery or filler.
Now through 7/4, score 20% off with code: HANGOVERPUFF.
"Alongside the roller is the Ice Queen Facial Oil- it's high-quality, cooling facial oil packed with antioxidants that help hydrate and firm, and leave skin feeling soft and supple," the podcast host explained. "Oh, did I mention it restores the skin's natural moisture barrier, replenishes moisture and helps reduce the appearance of fine lines and wrinkles? Yes please! Mix The Skinny Confidential Hot Mess Ice Roller with the Ice Queen Facial Oil, and you have yourself a duo that will tighten the f*ck out of your face."
Ice Queen Facial Oil
This magical facial oil promotes hydration and helps prevent moisture loss while protecting skin. Packed with all-star antioxidants like pomegranate seed oil, raspberry seed oil, blueberry seed oil and menthol, this facial oil needs to be in your skincare routine asap! Plus, it's vegan, cruelty free, gluten free, and free of synthetic fragrances.
Use code: HANGOVERPUFF to score 20% off now through 7/4.
To shop The Skinny Confidential's must-have ice roller and facial, head over to shopskinnyconfidential.com! And don't forget to tune into The Skinny Confidential Him & Her Podcast.
Still in the mood to shop? Check out the best Fourth of July sales from A-Z.
-Reporting by Amanda Williams
Want the latest and greatest deals and celebrity must-haves delivered straight to your inbox? Sign up for the Shop With E! newsletter!
-Originally published on Wed., May 12, 2021 at 11:40 a.m.


[ad_2]

Source link