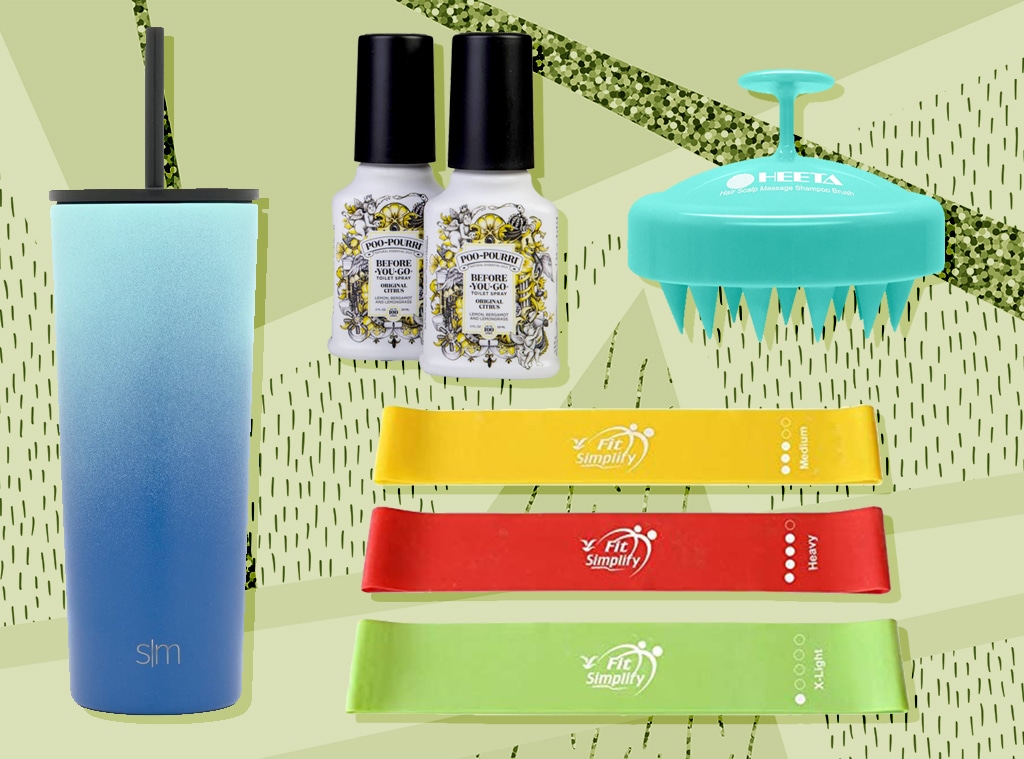 We independently selected these products because we love them, and we hope you do too. Shop with E! has affiliate relationships, so we may get a commission if you purchase something through our links. Items are sold by the retailer, not E!.
Amazon has an endless selection of goods, whether you're on the hunt for new clothing, food, books, handmade items or random life-changing gadgets, the retailer has you covered. However, sometimes Amazon buys can be a hit or a miss! 
In an effort to save you time, money and worry, we've rounded up the best Amazon products that do what they promise! From acupressure mats to cleaning putty to scalp brushes and avocado slicers, these products have sparked so much joy in our life! And don't take our word for them, all of the items have thousands of positive reviews.
For all the life-changing products on Amazon that will make life a bit easier, scroll below!
read
10 Amazing & Affordable Amazon Swimsuits
EZCO Bag Sealer Mini
We don't know about you, but we have wasted so many bags of chips and pretzels because they've gone stale faster than we expected. This bag sealer uses high-efficiency and low-loss heating film to create an airtight seal, so your goods will stay fresh longer, and you won't have to worry about mold. And you can store this tiny but mighty gadget on your refrigerator since it has a magnet on the back.
One reviewer said, "This product is wonderful. Our chip clips always get lost or broken, and I hate rolling a giant bag when there is just a little bit left in the bag. This not only re-seals the bag, but also cuts off the excess!"
OXO Good Grips Cleaning Brush for Electronics
This magical 2-in-1 cleaning brush will help clean the inside grooves of the most sensitive electronics like AirPods, computers, phones and cameras. Trust us, your keyboard will thank you!
One reviewer said, "I use this on just about everything! It's safe for electronics, of course, but I am constantly using them to get into the cracks of my glasses or game controllers. With both the extremely soft touch brush and soft rubber chisel tip, you'll probably be able to get to every spot you need to get to."
Mighty Patch Original – Hydrocolloid Acne Pimple Patch Spot Treatment
We have tried so many pimple patches, but there is a reason we keep ordering the Mighty Patch! Thanks to the highest quality hydrocolloid, these patches absorb and draw out pus and other impurities. The patches not only reduce the size of the blemish, the Mighty Patch speeds up the healing process. But as always, don't take our advice and check out the 28,500+ 5-Star reviews on Amazon.
Ticarve Cleaning Gel for Car Detailing
So many TikTok users have shown off the satisfying effects of this putty on car interiors and computer keyboards. If your drink consoles haven't been cleaned in a while, this is your sign to give your car some TLC. This magical gel has over 11,600 5-Star Reviews on Amazon, too!
One reviewer said, "This is so cool! My husband is all about detailing his truck and there's nothing worse than not being able to clean a spot. But now with this he can get into the vents and cup holders easier and all the little nicks and crannys! Smells good works great and easy to use."
Strawberry Huller & Slicer Set
Whether you prefer stemless berries or perfectly sliced ones, this genius set will allow you to save time while preparing delicious strawberry creations.
One reviewer said, "I don't know why I waited so long to get a gadget like this – it makes hulling strawberries so much faster and easier with much less waste. This huller works very well, cleans up easily and is very inexpensive. I love it!"
Addalock- The Original Portable Door Lock
Perfect for adding an extra layer of protection to your home, apartment or AirBNB. This lock installs in seconds without tools and can reinforce existing lock systems.
One reviewer said, "I am very happy with this purchase. I feel much safer when I'm home in bed sleeping and the door is jammed. I can relax. I live in an older, popular apartment in a busy city, and so I have no idea how many copies of the apartment key people have made over the years. Highly recommended for peace of mind."
Heeta Scalp Care Hair Brush with Soft Silicone
The ergonomic design of this hair brush offers an easy way to massage your scalp in and out of the shower. Plus, it will help ease itchiness, promote blood circulation and hair growth! 
One of the 50,000+ 5-Star reviewers said, "I love this thing! I've had it in my shopping cart for a while, but kept putting it off because it's not something you need, but I finally caved and bought it. It works so well! My scalp feels so clean! Plus, my nail polish always seems to chip while shampooing with just my fingers, but this eliminates that problem!"
Simple Modern Classic Insulated Tumbler
We can personally vouch that this cup will change your life and help you stay hydrated! With 6 sizes and 22 colorways to choose from, you're bound to find a version of the tumbler that speaks to your personal style. We suggest buying the straw and flip lid combo so you can enjoy both your coffee and cold drinks with ease.
One of the 29,000+ 5-Star reviewers said, "I am totally in love with my new cup. I accidentally left it in my car today, while the weather was 100 degrees outside for 3 hours, and when I came back there was still all my ice in the cup! Definitely impressed. I bought my husband one, and have one on order for my 2 kids as well."
Fasta Pasta Microwave Pasta Cooker
If you're in a rush and don't have time to wait for your pot to boil, just use the Fasta Pasta Microwave Pasta Cooker! This kitchen must-have allows you to cook your pasta in the microwave in half the time without producing sticky pasta. And it offers tiny holes for measuring and draining your pasta!
One reviewer said, "I don't want to get all gushy over a pasta maker, but man…I really love this gizmo! I try to limit my monthly food expenditures and the Fasta Pasta helps me work in at least one inexpensive pasta meal every week. The pasta comes out perfectly cooked every time; and the cleanup is a snap."
CreaClip Set Hair Cutting Tool
As seen on Shark Tank, CreaClip's hair cutting tool is a game changer for at-home haircuts and trims. All you have to do is just clip, slide, and cut! Also, think twice before using the clips after you decide you want bangs after a couple glasses of wine. Just wait until the morning to give yourself a salon-quality cut at home.
One reviewer said, "My wife is amazed at how well I was able to cut her hair, with her help, using the CreaClip! We cut it shoulder length and layered using the large and small CreaClips. She says she will never go back to a beauty salon, now that we have the CreaClip. It was actually fun, & I amazed myself that it was so easy to cut her hair. I'm a former professor and have never set foot in a beauty school!"
NIU Portable Charger
With over 39,096 5-Star Reviews on Amazon, we are adding this portable charger to our cart! NIU offers the thinnest 10000mAh power bank on the market, so now you can always have a charged device when you're on the go.
One reviewer said, "I bought this for my first trip across the US, and I'm really pleased with this product. It charged my phone 3 times fully and still had some juice left to keep charging. It held battery life really well, I charged it a few days before my trip and it was still at full battery by the time I left."
Poo-Pourri Before-You-Go Toilet Spray Bottle
If you don't have Poo-Pourri already, you need it! Just spritz in your toilet bowl before you go #2 and allow the formula to create a protective barrier on the water's surface to trap unpleasant odors. We love gifting Poo-Pourri bottles to friends and family because it's truly something everyone can use!
One reviewer said, "This Works! My sister suffers from Crohns disease and it can cause embarrassing moments in the restroom. Especially at work where everyone uses the same one….I figured its worth a shot and Wow! It has taken a huge weight off her shoulders. If you know anyone who has IBS, Crohns, etc this will give them peace of mind. You cannot smell ANYTHING, there is a faint lovely citrus scent."
Ewedoos Eco Friendly Yoga Mat with Alignment Lines
Tired of your yoga mat slipping? Try out this one from Ewedoos that features upgraded TPE material that allows you to do the most complex yoga moves safely.
One of the 5,161 5-Star reviewers said, "I got my 200 hour yoga teacher certification in January. I have quite a few yoga mats but always worry that my alignment is off which takes me away from my focus on breath and really distracts me from the purpose of yoga. This mat is really affordable and has made my yoga practice much more fluid. It takes me out of my head and keeps me grounded in my practice!"
TubShroom The Revolutionary Tub Drain Protector
Say goodbye to clogged drains with TubShroom! The unique mushroom-like shape hair stopper allows for maximum water flow so you can keep on showering and collects hair  neatly inside until you're ready to clean it off.
One of the 55,500+ 5-Star reviewers said, "2.5 years later and I've only had to unclog the drain once, and I believe it was just because of soap scum."
Fit Simplify Resistance Loop Exercise Bands
We ordered this band set a few years back and we're still obsessed! With varying degrees of resistance, these bands will help you tone, lengthen and stretch. Not to mention, they will help you get your dream summer booty just in time for summer.
One of the 55,000 5-Star reviewers said, "Love these! Handy to have if you haven't the space for weights or gym equipment! Light to heavy bands, you can have a good workout with these and it comes with a handy pouch to keep them in and a handy little exercise booklet."
Beautural Fabric Shaver and Lint Remover
With 3 shave heights, 2 speeds and 3 shaving hole sizes for varying fabric sizes, this $12 must-have gadget easily removes fabric fluff, lint and bobbles with sharp blades and expanded surface.
One of the 29, 376+ 5-Star reviewers said, "I honestly never even knew this type of device existed. I am so happy I found this and I don't have to throw away my favorite sweater/jacket. The shaver worked great and went over zippers, seams, and even the little leather loops on it and didn't damage a thing. This is probably my favorite amazon purchase ever."
ProsourceFit Acupressure Mat & Pillow Set
With over 8,000 acupressure points, this mat and pillow set will alleviate pain and discomfort while promoting rest and relaxation! You can use it while you're sitting in your work chair, lounging on the couch or laying down on the floor. It also comes in 7 fun colors!
One on the 18,800+ 5-Star reviewers said, "My love of Spikeo (affectionate name for this inanimate object) is known through all my friends, and over time many have tried it. At least 4 of my friends who have tried mine ending up buying one. Even people who think it looks terrifying have found it remarkably soothing."
OXO Good Grips 3-in-1 Avocado Slicer
Featuring a non-slip grip, this stainless steel avocado pitter removes pit with one quick twist and lifts fruit from skin in seven perfect pieces.
One of the of the 17,100+ 5-Star reviewers said, "Avocado? Yes, Please! This tool is awesome. Easy to cut open the fruit. Pit remover works well, just push onto the pit and give it a twist, and the pit pops right out. The best part is the slicer. Makes beautiful slices for a great presentation"
C.S.M. Body Brush for Wet or Dry Brushing
Among its many benefits, this brush will help renew skin cells, reduce cellulite and give you a red carpet glow! It's no surprise dry brushing has been around for thousands of years. We use our brush on the daily and always feel so much better!
One of the 10,106+ 5-Star reviewers said, "I literally use this dry brush every single day. It is my best friend. I have a lot of cellulite on my thighs because that's where all my weight goes to. My boyfriend compliments how soft my skin is all the time, and I can see a huge improvement with the cellulite, I believe because of the dry brushing mostly."
Ready for more Amazon must-haves? Check out Up Your Zoom Game With This Light on Amazon That Has 1,877 5-Star Reviews.
Want the latest and greatest deals and celebrity must-haves delivered straight to your inbox? Sign up for the Shop With E! newsletter!
—Originally published May 19, 2021, at 5:00 p.m. PT
[ad_2]

Source link