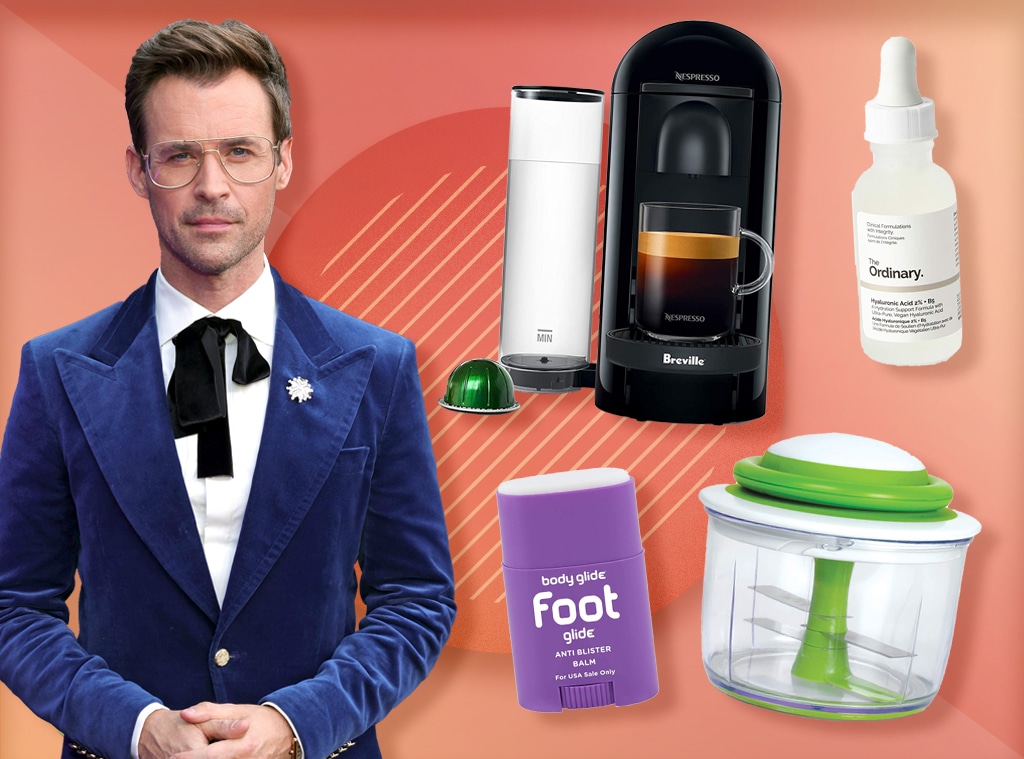 E! Illustration; Rich Polk/E! Entertainment
We independently selected these products because we love them, and we hope you do too. Shop with E! has affiliate relationships, so we may get a commission if you purchase something through our links. Items are sold by the retailer, not E!.
It's hard not to be curious about internet-famous products. Will they do what they promise? Will they look good in person? We all can't help wondering. Thankfully, Brad Goreski shared his take on some items that have been all over social media during an Amazon Live session. Brad shared, "Most of the items are under $50, except for two. That's also always fun." Under $50? Sounds good to me. Brad remarked, "We've got clothing. We've got beauty. We've got kitchen gadgets. We have lots of different comfy loungey things as well."
His list has items to solve so many of your problems. Does your shirt keep riding up? He found something for that. Do you wish you could always have hot coffee at the perfect temperature? He has a solution for you. Even if you're more of an iced coffee person, he has a helpful product to keep your beverages cold without diluting the flavor with ice cubes. If you want to prevent blisters from uncomfortable footwear, Brad has a miracle product. And, if you'd like a $5,000 ring, Brad might have that for you. Well, he actually found a candle that has a ring hidden in the wax, which could be valued from $15 to $5,000. It's just a surprise every time. And the candles smell good anyway, so it's a win-win purchase.  
Are you intrigued? Keep on scrolling to see Brad's Amazon picks and learn why you need them in your life.
read
Paige DeSorbo's Amazon Fashion Finds Are On-Point and On-Budget
BUTABY Rectangle Sunglasses- Set of 2
"You've been seeing them everywhere, on every single celebrity," Brad shared, adding, "These are very Bella Hadid, Emily Ratajkowski, Kendall Jenner." This is a great buy because "you get two pairs each in each set, black and tortoise." The stylist said, "They have a bit of a retro/futuristic vibe," describing them as "very, very fashion forward" and "very cool."
PAVOI 14K Gold Colored Lightweight Chunky Open Hoops
"It's always important to have a pair of hoop earrings in your jewelry box," Brad began. He continued, "These ones are 14-K gold, lightweight, chunky hoops." They're also available in silver and rose gold in assorted sizes. Brad added, "What I'm suggest to everybody in the Zoom culture that we live in right now, hoop earrings are the fix-all for every single outfit. So, if you don't feel like putting in a lot of thought into your outfit, just adding a bit of jewelry helps to kind of elevate it."
Kalkehay Fake Collar Detachable Dickey Collar
Brad revealed, "My shirt underneath my tuxedo, the seamstress kept on pulling it down because whenever I'd move, it would ride up a little bit. And that's where this really would have come in handy. This is a fake, detachable, dickey collar. It looks like you're wearing a full shirt underneath a sweater." He also pointed out that this is a great thing to have in "the virtual world and doing things over Zoom," joking, "this is the definition of 'fake it til you make it.'"
Brad loves this because it's "a very easy thing to make you look like you put in the effort." and because "it's going to be really light and easy-breezy for the summer." It's available in pink, black, and white.
HALLUCI Women's Cross Band Soft Plush Fleece House Indoor or Outdoor Slippers
"These slippers are so soft," Brad gushed. He said, "If you're looking for a new slipper, these are super, super plush. Very comfortable. They have this cloud-like cushion in the middle of them." The best part about these: "You can wear them indoor or outdoor" because they have a hard sole underneath the fluff. There are 11 colors to choose from. 
BodyGlide Foot Anti Blister Balm
Brad confessed, "I don't wear dress socks with my dress shoes. I get blisters, but that serves me right because I don't have a layer of protection around my feet." However, he found a solution to that problem. He said, "You apply this before you put on your shoes and it helps to prevent blisters. It helps soften skin, restore dry feet, and it helps minimize inflammation, which is also good if you wear high heels. It will keep your pores clog-free and lets your skin breathe." It has received 4,300+ 5-star reviews from Amazon customers.
The Ordinary Hyaluronic Acid 2% + B5 30ml
"This brand is incredibly popular," Brad said. The serum "is beloved by everybody who uses it," including Olivia Rodrigo, who uses it as a part of her regular skincare routine. More than 7,000 Amazon customers gave the serum 5-star reviews. Brad shared, "It is good for plumping. It is good for moisturizing." And that price tag is definitely worth the gamble of trying something new.
Maxsoft Hair Scalp Massager Shampoo Brush
This $7 product has received more than 53,000 5-star reviews on Amazon. "It's an incredible, multi-use product. You can use it on all hair types," Brad said before explaining, "It has these thick, silicone bristles. You can use it on dry or wet hair." He shared, "It massages your scalp and cleans your scalp with less shampoo and conditioner." Why is this so essential to have? "Your scalp health is basically the controller of how healthy the rest of your hair is."
Nespresso VertuoPlus Solo by Breville – Ink Black
Brad insisted, "It's super, duper, easy to use. It's a gorgeous machine. It comes with a beautiful selection of Nespresso pods." Brad adores this because "it heats up in like 15 seconds and there's an energy-saving, automatic shut-off."
Zulay Milk Frother Handheld Foam Maker With Upgraded Holster Stand
"If you like to froth you cappuccinos, you like to have a latte, or if you want to become your own little barista at home," Brad recommends this milk frother. He also appreciates that "it's light weight and doesn't take up a lot of space."
Ember Temperature Control Smart Mug
This is not your typical coffee mug. If you want coffee at the "perfect" temperature, you might need this one. Brad explained, "You can actually control this through an app. It allows you to keep your drink perfectly hot." He also likes the customized preset options and the ability to receive notifications.
HyperChiller by Maxi-Matic HC2 Patented instant Coffee/Beverage Cooler
"If you prefer an iced coffee or a cold brew, you're gonna love this," Brad promised. He declared that this product is the "easiest, most effective way to chill your favorite beverages" because it "keeps your drink separate from the ice," which prevents dilution and watery coffee. He also mentioned that it's good for chilling wine because, well, who wanted diluted wine?
Chef'n VeggiChop Hand-Powered Food Chopper
Brad said, "This is a really easy gadget. It can chop large pieces of fruit, vegetables, boneless meat, herbs, nuts, and even ice. It runs without electricity. It's hand-powered. It's great for small kitchens, RVs, camping." Brad insisted that it's "great for making guacamole, pesto, hummus." It has received 3,100+ 5-star reviews… and counting.
2-Pack Mini Bag Sealer
"This is the mini bag sealer," Brad said. He uses it to seal up bags of chips and other snacks, sharing that it works "like magic." He likes the "cutting mechanism on the other side to cut off excess." You get two in a pack and it comes with a little hook so you could hang it up.
Evriholder Easi-Twist
"I haven't been able to open up a lot of jars," Brad admitted. With this tool, "You can open up everything from a ketchup bottle to a pickle jar, to peanut butter containers, and you'll literally never struggle to unscrew a container ever again. It's really easy to use." One tool has four-size options to choose from to open a wide variety of containers. 
Bedsure Satin Pillowcase for Hair and Skin, 2-Pack
This pillowcase set got 122,900+ 5-star reviews from Amazon shoppers. Brad said, "These are non-absorbent, satin pillowcases that create less friction in your hair" and prevent "sleep lines" on your face. Brad remarked, "Why wasn't this around when I was younger? I would have been sleeping on a satin pillowcase for all these years. My dermatologist told me I want to be sleeping on a satin pillowcase because it's better for your hair and better for your face." He pointed out "it comes in dozens of colors and sizes" and "the material helps you keep cool in the warmer months." And, yes, it's machine washable.
THE COMFY Original Oversized Microfiber & Sherpa Wearable Blanket, Seen On Shark Tank
The Comfy is one of our favorite Shark Tank products. After all, it's received 43,000+ 5-star reviews from Amazon. Who wouldn't want a wearable blanket? Brad loves this because it has "full-on sherpa" inside and "there's this little pocket in the front for your snacks or your phone." It also has a hood and sleeves. Brad said, "the outside is super, super, super soft. There are a bunch of cute colors and patterns to choose from.
Book Couch iPad Tablet Holder
"It's a unique gift for a person who loves to read a lot," Brad said. He revealed that it's "designed to promote good posture and prevent neck and backaches." The stand "firmly holds pages in place and keeps tablet secure" so you can "read longer and in a very comfortable manner." There are a bunch of fun colors and designs to choose from too.
REIDEA Electronic Candle Lighter
Brad likes this electronic lighter because "there's no gas." He explained, "You have to charge it with a USB cable that comes with it. One charge can last over 60 uses." It has 11,500+ 5-star reviews.
Mermaid Day Dream Candle with Ring Inside (Surprise Jewelry Valued at $15 to $5,000)
There are many 100% soy candles out there, but this one has a little surprise when you get to the end. Brad explained, "There's a jewelry item hidden in each candle and the value is anywhere between $15 and $5,000. You select your desired fragrance and ring size when you purchase. Once it burns down low enough, you can uncover your ring." He remarked, "I mean, whoever thought of this was so genius." Seriously.
FURemover Broom
Brad shared, "This is another must-have for pet owners. It removes pet hair from tile and carpet." He added that it "can also be used on windows or to pick up spills on the floor." This one got 42,200+ 5-star reviews on Amazon.
Cleaning Gel for Car Detailing- Cleaning Mud for Cars and Keyboard
"This is cleaning gel for car detailing You pull the gel out, knead it a few times with your hands. Press it inside the grate and it will pull out all of the dust." He recommends it for cleaning out air conditioning grates and the dashboard of the car. He added, "It's not just good for cleaning your car, but also good for the office and around the house. It absorbs dust and dirt from nooks and crannies everywhere. You can use it on your keyboard as well."
While you're shopping at Amazon, check out the trending gadgets you need, according to Vanderpump Rules stars Tom Sandoval and Tom Schwartz.
[ad_2]

Source link