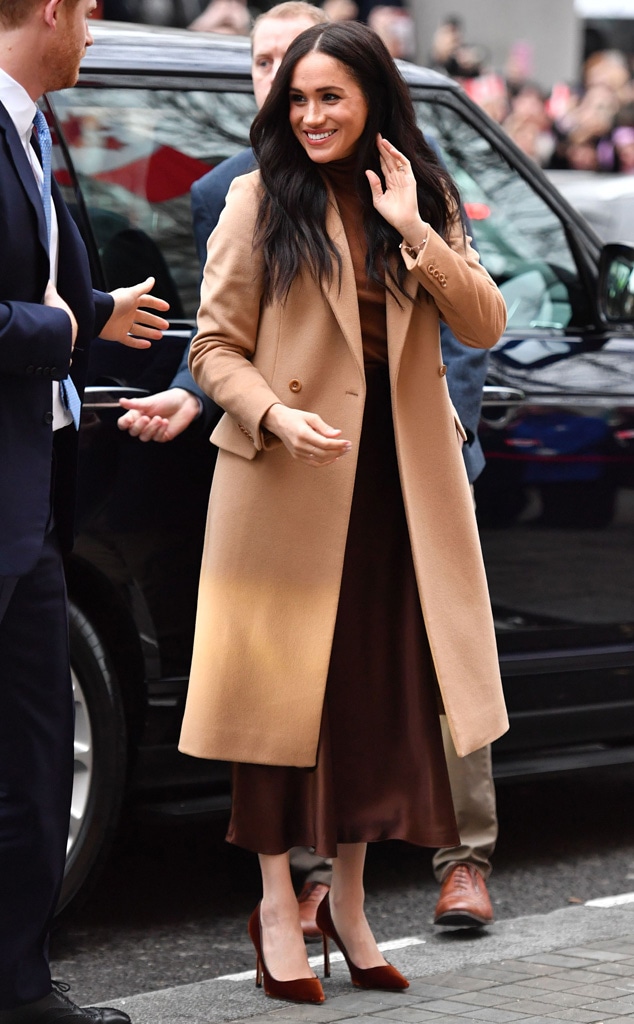 Tim Rooke/Shutterstock
Can you believe that, at this time last year, Meghan Markle and Prince Harry were still on the job?
They had given their notice Jan. 8, 2020, issuing a shocking statement alerting the world that they'd be relinquishing their posts as senior members of The Firm and intended to become financially independent contractors—still proud to support the family business, but remotely and not every day.
Which obviously wouldn't do and negotiations with their boss resulted in them being free to pursue new opportunities, because part-time just wasn't going to cut it. They had until March 31 to get their accounts in order.
Translation: Harry and Meghan quit working for the royal family and are now living in California and producing content for Netflix and Spotify, no longer able to use their His and Her Royal Highness or Duke and Duchess of Sussex titles for business or charity but not exactly needing them to flourish, either. And last week, the cutting of ties was made even more permanent with Buckingham Palace confirming that Queen Elizabeth II's grandson and his wife will no longer have any royal patronages back in the U.K.
Which goes to show just how much can change in fewer than 12 months, let alone the almost five years since Harry first met Meghan on a fix-up in London.
photos
All of Meghan Markle's Final Royal Outfits
It was of course obvious in the moment that this would have a lasting effect on Harry's relationship with the queen and with his father and brother, both future kings who had envisioned a larger role for him and Meghan as they continue to reshape the monarchy to better suit the 21st century.
But even if they were still chugging along as senior members of the royal family to this day and the announcement that they're expecting their second child hadn't preceded the scheduling of an unprecedented sit-down with Oprah Winfrey, the very fact of Harry and Meghan's coupling had already rocked the family's stodgy status quo from the beginning.
photos
See How Meghan Markle Hid Her Baby Bump
And it's not as if changing addresses lessened the amount of scrutiny directed at Meghan, who's been alternately blamed for what some consider to be Harry's dereliction of duty and cheered for saving the prince (and herself) from living a stifling life of pomp and circumstance. Now, at least, she's free to speak her mind, do wildly eyebrow-raising things such as vote, and devote her energies to the causes that most matter to her.
"It's something I look forward to being a part of," Meghan said in August of the slew of hot-button issues roiling her home country, from protests and civil unrest over racial inequality and economic despair to the looming 2020 presidential election. "And being part of using my voice in a way that I haven't been able to of late. So, yeah, it's good to be home."
Ultimately, Harry and Meghan's decision to socially distance themselves from the royal family for reasons that had nothing to do with preventing COVID-19 from spreading is not even the most world-rattling scandal to plague the House of Windsor, either this century or last. No lines of succession have been altered, no connections forever broken. Harry and Prince William reportedly didn't speak for a couple of months after the terms of the move quickly dubbed "Megxit" were hammered out, but they've been in communication more regularly lately.
"There were phone and video calls over the Christmas and New Year holiday and the Sussexes sent presents to the Cambridges and vice versa," royal expert Katie Nicholl told Entertainment Tonight last month. "It was an opportunity in an otherwise very busy and chaotic year for both of the families to come together and connect, albeit virtually."
But there's no question that the family isn't the same as it was in 2018, when Meghan married into it—or 2016, when Harry first fell in love with her, months before anyone even knew he had a girlfriend.
There are at least two sides to every story (and far more than that to this one), whether you believe the least flattering dispatches or the more glowing takes on how Meghan came, saw, didn't like what she saw and skedaddled. More likely you sense, correctly, that the truth is a complicated melding of all the sides.
But there are no two ways about the fact that the course of the royal family has been forever altered by the addition of Meghan to its tree:
The Firm may not have ever thought of opening a satellite office in Montecito, but it's open, it's running, and is already the headquarters for a whole new way of doing business.
(Originally published Aug. 4, 2020, at 3 a.m. PT)