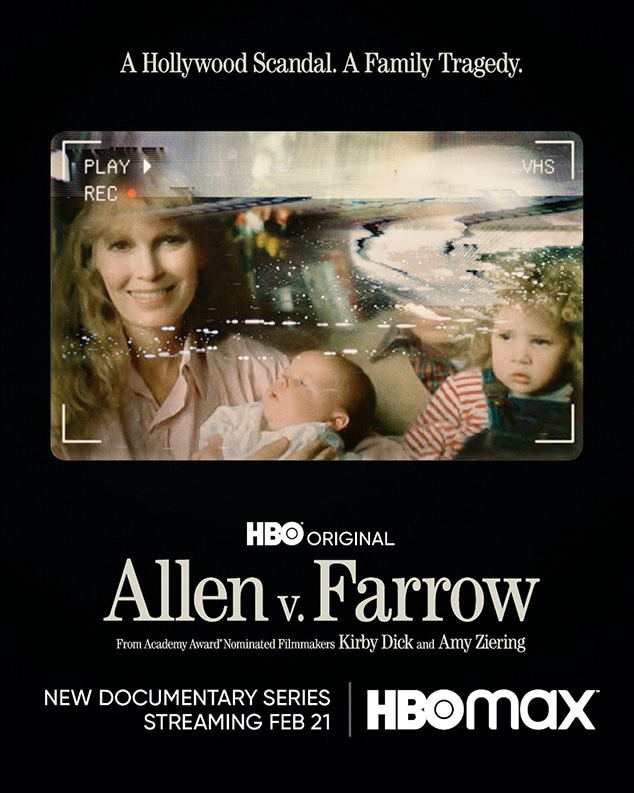 Courtesy of HBO
The question of what Woody Allen did or didn't do was first posed almost 30 years ago. It was just a question that almost no one wanted to think too much about.
Since being accused in 1992 of sexually abusing his adopted daughter Dylan Farrow, he has directed 26 movies, all packed with major stars, and in 2012 he won an Oscar for Best Original Screenplay (his third career win in that category). He was honored with the Cecil B. DeMille Award for lifetime achievement at the Golden Globes in 2014.
A few weeks later, an op-Ed by Dylan was published in the New York Times. She described the stomach-churning account of the allegations against Woody from when she was 7 years old—and questioned why his career chugged along almost entirely unfettered while her life had been derailed. 
Woody responded with his own op-Ed, also in the Times, in which he denied ever harming Dylan and again put the blame for the implosion of their relationship squarely on his ex-partner and onetime muse Mia Farrow. He has accused Mia of turning Dylan against him as revenge for falling in love with the actress' 21-year-old adopted daughter Soon-Yi Previn. That shocking affair with the young woman 35 years his junior was in itself a bizarre turn of events that he has admitted to handling preposterously badly—and which remained a punchline for decades—but he's now been married to Soon-Yi since 1997 and they have two adopted children together.
In March 1993, a report from the Yale-New Haven Hospital Child Sexual Abuse Clinic concluded that Woody hadn't abused Dylan, but after a bruising trial a judge awarded full custody to Mia nevertheless, determining that the filmmaker's behavior was "grossly inappropriate and that measures must be taken to protect [the child]." There was a criminal investigation and Woody was never charged, but the custody ruling was held up on appeal.
photos
Hollywood's Many Men Accused of Sexual Misconduct
Twenty-seven years later, Dylan is a writer, married and the mother of a daughter. Her new novel, Hush, came out in October and she's working on a sequel. She has said that she doesn't want this one tragic episode of her life to define her (she actually uses a different name in her personal life, but Dylan Farrow remains her public moniker), telling Elle in a recent interview, "believe it or not, the stuff that I wrote about in that essay does not encompass the entirety of my existence. It's a small part of 35 years of living."
The new four-part HBO documentary series Allen v. Farrow, directed by Kirby Dick and Amy Ziering and produced by Amy Herdy (the team behind the Oscar-nominated documentary The Hunting Ground, about the scourge of sexual assault on college campuses) set out to show—with Dylan's participation—that the rest of the world doesn't even know the half of it.
read
Mia Farrow Calls Woody Allen Relationship Her Life's "Great Regret" in Trailer For Allen V. Farrow
The resolution, or lack thereof, of the allegations against Allen never sat well with some ("my heroes," Dylan referred to those "precious few" in Hollywood who took a stand), and it was called into question after the publication of her essay, which marked the first time that many people had even heard about the case. Meanwhile, Woody's staunchest defenders, men and women, never wavered, citing the report that cleared him and the lack of criminal charges. A-listers continued to line up to work with him. Cate Blanchett, star of Allen's film Blue Jasmine, won all the major awards, including the Oscar for Best Actress, amid the renewed interest into what happened in 2014.
Or didn't happen, as Allen continued to insist.
But in 2017, when the #MeToo movement—triggered in part by the investigative work of Mia and Woody's son Ronan Farrow into Harvey Weinstein's legendarily despicable treatment of women—started shining a glaring light on the rampant sexual misconduct in the entertainment industry and beyond, old stains undetectable to the naked eye began lighting up like they'd been doused with luminol and eyes turned to Allen once again.
Again, some remained unmoved and confident in the filmmaker's innocence, defying an angry Twitterverse that had no more use for him or his defenders. 
But the industry that shoveled praise on him for 50 years eventually couldn't pretend that nothing was happening. Amazon Studios ended its deal with him in 2019 (Woody sued for breach of contract; the case was settled and dismissed) and halted the planned release of A Rainy Day in New York, which was completed in 2018. Leading ladies Selena Gomez and Rebecca Hall donated their salaries to Time's Up, while co-star Timothée Chalamet split his paycheck between Time's Up, the Rape, Abuse & Incest National Network (RAINN) and the LGBT Center in New York. Griffin Newman, also in the film, donated his salary to RAINN and tweeted that he regretted ever accepting the role. European audiences put it atop the global box office when it came out last spring overseas and it eventually was quietly released in the U.S. in October. Woody's latest film, Rifkin's Festival, premiered at the San Sebastián International Film Festival in September but there are currently no plans for U.S. distribution.
Allen v Farrow examines not just the allegations and the explosive custody battle, but why all of it only ended up being so much of a blip on Woody's prolific career up until just two years ago. Here are the most memorable revelations from the premiere episode:
Blaming Herself
Dylan, paging through an album full of family photos (not all the ones that were once there, while others were "strategically cropped," she notes) at her former home in Connecticut, explains why she's putting herself through this process of, not just remembering, but once again relaying her experience.
"I think in a lot of ways I've come to understand my feelings better as an adult than I did as a child," she says. "What I was really feeling was that I had let down the little girl that I was before when I couldn't speak about it. I wish that I had been stronger, that I hadn't crumpled so much under the pressure. And I needed in a way to prove to myself that I can face it. Which is probably why I feel so strongly about coming forward now."
Getty Images for ELLE Magazine
An "Idyllic" Childhood
Home videos juxtapose the normalcy—birthday parties, swimming, running around in their backyard, toys scattered all over the place—with the decidedly not-so-normal but familiar aspects of her childhood, such as traveling on private planes, being in her mother's arms on the set of New York Stories and family vacations with her seven siblings, including Soon-Yi. (Mia had seven children already when she met Allen, three biological with her second husband, composer André Previn, as well as four adopted. She adopted Dylan during her relationship with Woody, then he adopted Dylan and Mia's son Moses after he and Mia had Ronan together.)
Allen's there, swimming in the pool, hugging and playing with Dylan. "This is somebody that I love, more than anybody else," she recalls. "And it's taken me a long time to sort of reconcile that you can love somebody and be afraid of them."
A Mother's Regrets
Mia has lived in the same sprawling Connecticut farmhouse for 40 years (Dylan and her family live nearby), a home she still considers "a place of happiness and love" despite everything alleged to have occurred there. She made 13 movies with Allen released between 1982 and 1992, starting with A Midsummer Night's Sex Comedy. She adopted Dylan in 1985.
photos
2021 Celebrity Breakups
"I haven't spoken publicly about this for decades, but that's the great regret of my life, that I wasn't perceptive enough," she says. "It's my fault, I brought this guy into our family. There's nothing I can do to take that away. I get why people can't believe it, because who on earth could believe that of Woody Allen? You know? I couldn't believe it…I couldn't believe it. Everybody admired Woody so much, loved him. And I did, too."
MGM Home Entertainment; United Artists
The Cult of Woody Allen
A slew of film critics and culture reporters speak to just how much of thing Woody Allen was, starting in the 1970s. The bard of New Yorkers' neuroses, he was hailed as a "Comedy Genius" on the cover of TIME and one of the few writer-directors creating great parts for women, even if the action was usually being filtered through the eyes of one of the various nebbishes he played in the majority of his films. He also wrote and directed so many movies (almost one a year since 1978, wildly varying in quality but all very identifiably his), there was a good chance that at least one of them would snare a person into becoming a lifelong fan, be it Bananas, Sleepers or 1978 Best Picture Oscar winner Annie Hall.
"I grew up feeling really close to Woody Allen. He was always to me, my whole life, extremely appealing," observes Claire Dederer of The Paris Review. "I felt that he represented me, which is a very weird way for a little girl to feel about a middle-aged filmmaker. He has a way of inhabiting something very human that's extremely relatable."
Adam Scull/photolink/REX/Shutterstock
The Early Days
Mia first met Woody at celebrity watering hole Elaine's in New York in 1979, and he invited her to his glittering New Year's Eve party. Not long after, his secretary called her up to invite her to lunch with Mr. Allen, she went, and so their relationship began. Mia admits she didn't think anyone would want to date a woman with seven children, but there he was (though he "didn't want to meet them at all" at first). In the beginning they lived in apartments directly across each other on either side of Central Park. They'd flicker their lights on and off as a way to say "I love you," Mia recalls. Sometimes she'd hang a red towel outside her window as another signal. "Everything about that time was romantic," she says.
He told her he had "zero interest" in kids, but she figured she could balance her family and having a private life, so she continued to see him. Eventually he met her brood, and would frequently visit the Connecticut house once she moved there, but he always maintained his own residence in the city.
photos
Hollywood Kids That Are Upstaging Their Famous Parents
Father Figure
Fletcher Previn, the youngest of Mia's three biological sons with André, says Woody was more of a "day-to-day" dad than his own father was at the time. Daisy Previn, who was adopted in 1976, recalls (in an audio-only interview) going to Woody's place with their mom for weekends in the city, the director having set up a room with bunkbeds for the kids.
He did not participate, so Allen v Farrow uses clips of the Woody-read audio edition of his 2020 memoir Apropos of Nothing to fill in his perspective. In the book, he recalls Soon-Yi being "sullen" when she was a kid, and he particularly bonded with Mia's adopted son Moses (who remains one of Woody's defenders). When Mia expressed interest in having another child, he morally supported her when she adopted Dylan in 1985, but didn't expect himself to be a hands-on dad. To his surprise, "I quickly found this tiny baby girl adorable. I found myself more and more holding her, playing with her and completely falling in love with her, delighted to be her father."
Mia says Woody was "enchanted" by Dylan, "and I was absolutely thrilled."
Brad Barket/Invision/AP/Shutterstock
Discriminating Dad
Woody endlessly doted on Dylan, as remembered by him in his book, as well as by Mia and family friends in new interviews. He would go to FAO Schwarz before it opened so he could privately shop for toys, and one time, as Fletcher told it, he had Dylan's teddy bear flown first class from one city to another when she left it behind on a vacation, so she wouldn't have to spend one night without it.
So when Mia got pregnant, Woody had no qualms about openly hoping the child would be a girl. When they found out they were having a boy, Woody was "disappointed," Mia recalls. When Satchel (who would one day choose to go by Ronan instead) was born, his mom recalls Woody taking Dylan away so that she could be alone with the newborn, though she wanted to be with both of the children. And Woody remembers in his book that Mia "monopolized [their son's] time, and short of me forcing the issue, he was rarely available."
He claimed Mia was so "delirious" with Satchel, she didn't have much time for the other children. Dylan recalls the feeling slowly starting to be impressed upon her that Mia was more her brother's parent, and Woody was more her parent. "I was Daddy's girl, you know," she says. "I was told that she didn't want me around or that she didn't have time for me, or that she was too busy."
However, home movies show Woody spending time with both kids, and in the series Ronan recalls having a normal father-son relationship with him as a child. "He was my dad, he was raising us," says the journalist, who has been a stalwart supporter of Dylan's since she came forward with her story. 
photos
True Crime Titles to Explore This February
Something's Wrong
"I worshipped him," Dylan says. "He was so funny and he made me feel so special. That's where things get really, really complicated, because threaded throughout all of those good times, there was a lot more going on."
In addition to Mia and Dylan, family friends, including Mia's high school pal Casey Pascal and Priscilla Gilman, who dated Mia's son Matthew Previn, recall the "intense" bond between Woody and his daughter. "He followed Dylan wherever she went," Priscilla recalls. Dylan remembered playing with dolls at a friend's house once and looking around and wondering, Why isn't her dad here, like mine would be? "That was my entire frame of reference," she says. "I was always in his clutches. He was always… hunting me."
And then the memories turn to Dylan wanting to hide or just keep playing with Ronan whenever she heard her dad coming. "She started running away from him. She started locking herself in bathrooms," Mia says. "And he would say she was retreating from reality or something, but she wasn't like that when he wasn't there."
Ronan says, "Over time, Dylan went from being outgoing and effervescent and talkative to her having this sadness and this withdrawn quality. And I didn't know as a kid how to contextualize that, but now in retrospect I understand that that was a pattern of something very serious and alarming."
REX USA/Keith Butler

Heinous Memories
Dylan describes having haunted memories of different rooms in the country house and her dad's apartment. She says she remembers getting into bed with her father, both of them in their underwear, and "cuddling," adding, "He would just wrap his body around me, very intimately." Priscilla says she once spied Woody getting out of bed, wearing only his underwear, "and I just kind of turned around and walked the other way because I didn't want him to know that I had seen." 
Mia saw them in bed, too, and sometimes she'd see Woody rest his face in Dylan's lap. "I felt that if I felt weird about it, that was on me," Dylan says. Her aunt, Mia's sister Tisa Farrow, recalls a day at the beach, and Woody rubbing sunscreen on Dylan's back. She says he put his hand down the back of her suit and between the cheeks of her bottom—which Mia saw, then snatched the sunscreen away.
Dylan started going to therapy in March 1991, when she was 5. She told the therapist twice that she had "a secret," a revelation that the therapist didn't share with Mia.
Excuses
Mia says she started to feel like a policeman. On one occasion, she saw Woody slap Dylan's hand away from him and, when she asked why, he explained that Dylan had tried to grab for his penis. "So I was comforting her," Mia says, "and at the same time I was thinking, Why would a little girl do that? I tried to push it out of my mind, but what kind of thing is going on that involved private parts, at all? Maybe there were things that I didn't know that might be happening."
Dylan recalls one day at the country house, sitting on the porch with her dad, "and he was directing me on how to suck his thumb, telling me what to do with my tongue." Priscilla says she saw Dylan sucking Woody's thumb, and he told her that it was calming for the child.
When Mia would express concern to Woody over how he was handling Dylan, he'd get explosively angry at being accused of anything, which ended in her apologizing to him. He told her that she needed help. When a prominent psychiatrist who lived in their building in New York told Mia that she saw something off about the way Woody greeted Dylan, Mia thought her boyfriend would respect the doctor's opinion—and he did agree to see a therapist. The therapist told Mia that his conduct was "inappropriate" but not sexual, though it could be perceived as sexual. Woody was showing affection in the wrong way because he had no idea how to behave around children, the therapist explained. He gave her some coping tips and suggestions on how to talk to Woody about it.
"I felt it was under control," Mia says. "I thought things would get better and for a time it seemed that way."
Destroyed
Once Woody was in therapy, he told Mia he wanted to adopt Dylan and Moses, the latter of whom was "over the moon" at the prospect. The adoption was finalized Dec. 17, 1991. "I thought he was my life's partner and I believed in our future," the actress admits. "I thought we were going to go on and have a wonderful life."
On Jan. 13, 1992, Mia stopped by Woody's New York apartment with one of her sons and found a stack of Polaroids—all "pornographic pictures of a woman, a girl." They were of her daughter Soon-Yi, in her first year of college at the time. "They wouldn't put them in Playboy. They were like, I don't know, Hustler pictures or something. Really, really raunchy pictures." Mia remembers "struggling to breath" as she tried to button her son's coat. Shaking, she took the photos and went straight to her apartment across the park, where she found Soon-Yi and told her she had seen the pictures. The girl started to cry.
When Woody let himself into her apartment later with his key, Mia confronted him. He told her he only loved her, that he had made a mistake and "lost control," Mia recalls. She told him to get out. Dylan says she's not sure if she really understood anything that was happening. Dylan's therapist was the one who advised Mia on how to tell Dylan and Ronan what happened. Finding out her father had taken naked pictures of Soon-Yi, Dylan remembers thinking, "Oh, it's not just me."
The first episode of Allen v Farrow is now streaming on HBO Max. Episode two premieres Sunday, Feb. 28, at 9 p.m.
[ad_2]

Source link