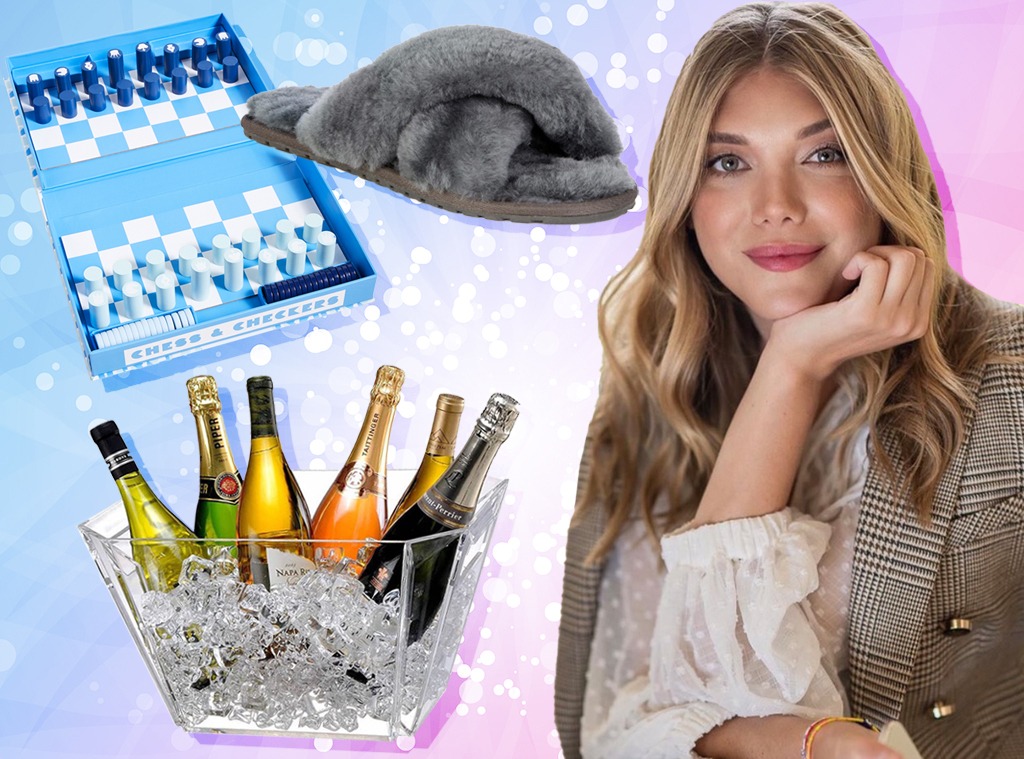 E! Illustration
We love these products, and we hope you do too. E! has affiliate relationships, so we may get a small share of the revenue from your purchases. Items are sold by the retailer, not E!.
Before you know it, New Year's Eve will be here and we can finally ring in 2021!
Understandably, New Year's celebrations will look quite different this year. However, you can still usher in 2021 while celebrating safely and in style. And if you're wondering how to throw a fabulous NYE at home, Amazon Live's style host Katie Sands is here to help!
read
Gwen Stefani, Doja Cat and More Stars to Perform at NBC's New Year's Eve Special
"Ringing in the New Year definitely looks different this year but that doesn't mean you shouldn't celebrate from the comfort of your home," the content creator explained to E!. "I put together a list of my go-to items I'll be cozying up with to ring in 2020 on a positive note. Let's take advantage of this calmer NYE and use it as an invitation to slow down, reconnect with ourselves and our loved ones, rather than our usual fast-paced and expensive celebrations. Be kinder to yourself and those that aren't as comfortable, to have the space to be comfortable celebrating in."
For all of Katie's NYE essentials, scroll below!
read
20+ Holiday Gifts for Foodies
Prodyne Clear Iceburg Beverage Tub
Serve your beverages in style while keeping them cool enough to last until midnight!
Amscan Get The Party Started New Year's Party Kit for 25
"I bought this pack of party hats a few years ago and have saved almost all of them to rewear over and over again. They don't have the date or year printed on them so you can stash them about for years to come."
Hiware 12-Pack Gold Stainless Steel Straws Reusable with Case
"Metal straws over paper and plastic any day! These are the perfect party straws that you can reuse time and time again. Plus they're under $10 and come with a cleaning sponge."
Just Artifacts 8-Inch Pale Pink Chinese Japanese Paper Lanterns- Set of 5
"Colored lanterns are my number one go-to for any celebration. They can be displayed and hung for almost every holiday and easily fold up to be tucked away for your next event."
Bonfire Blanket
"The perfect throw for any cozy night in! This Boll & Branch Bonfire blanket is made from 100% organic cotton, ethical production, and thoughtful attention to every detail."
Coors Hard Seltzer Variety Pack
"Drinking Coors Seltzer is the easiest way to give back this holiday season! Not only is the Lemon Lime flavor my new favorite hard seltzer of the moment, but by buying a 12 pack of Coors Seltzer you are automatically helping to restore America's rivers with clean water thanks to their initiative with the incredible organization Change the Course. You can literally be sitting from your couch and volunteering at the same time."
Banza Plain Frozen Vegan Pizza Crust- 4 Pack
"I recently discovered this frozen chickpea pizza after spending the last few years devouring cauliflower frozen pizzas and I have to say this tops the pizza scale. Store a few boxes of the Banza pizza in your freezer and you'll be ready to go for NYE whether it be just you and your SO or a few close friends."
SiO Beauty FaceLift Pack
"My favorite at home reusable skin smoothing silicone patches that have completely changed the nature of my skin. Get them for your friends and family and have a patch party over some pizza this NYE!"
Hourglass Ambient™ Lighting Face Palette – Sculpture
"This highlighter palette from cruelty-free makeup brand Hourglass literally lights up my skin. A little goes such a long way with this limited time palette. I use it for streaming, shoots, and of course holiday Facetimes so of course I'll be layering it on for the sparkliest night of the year."
Peacock Subscription
"The most coveted subscription of the year! This is a NYE must have to watch the best new shows and movies premiering only on Peacock. I can't wait to watch!"
Google Nest Audio
"What is better than playing any music at the sound of your voice. Whether you're cooking, lounging, or dancing the night away, Google Home is my go-to tech accessory."
EMU Australia Mayberry Womens Slippers Sheepskin Slipper
"These are my house slippers and go-to gift always! They come in every colorway and are by far the comfiest slippers I've worn to date"
The Sophie Top
"Let's be honest, we've all been living in sets since day one of quarantine so my goal was to create the perfect set that could be worn both in quarantine and out of it, when this is all over. The acid wash in both cream and black neutral is my take on the tie dye trend we have all been seeing and loving. I wanted to make sure the set was more monochromatic and neutral, so that you can feel like it could be worn out from brunch to bed, from street to sport, paired with high-waisted mom jeans, or a nude bodysuit and kicks. It's so versatile and buttery soft."
The Harriet Fleece
"Named after my Grandmother Harriet, the fleece is your go-to piece of outerwear this season. It has the simplicity complex to mix and match with anything in your wardrobe and the softness of your favorite hang around all-day-in robe. I personally love the pink colorway because everyone deserves to have a pop of pink in their life. We all need colors and fabric to help boost our mood these day and this piece does just that!"
200 Piece Robyn Blair Puzzle
"It's all about the at-home games this holiday season so why not start with a puzzle from your favorite pop artists!"
SunnyLife Board Game Chess & Checkers
"Yes, I know chess is all the rage these days so get going and start learning with this incredible 2-in-1 set from Shopbop. There is nothing that gets your mind off the current state of the world than focusing all your energy on a new hobby!"
For more NYE inspiration, check out these 5 Holiday Cocktail Recipes That Will Make Your Spirits Bright This Season!
Want the best holiday deals and celebrity gift guides delivered straight to your inbox? Sign up for the Shop With E! newsletter!