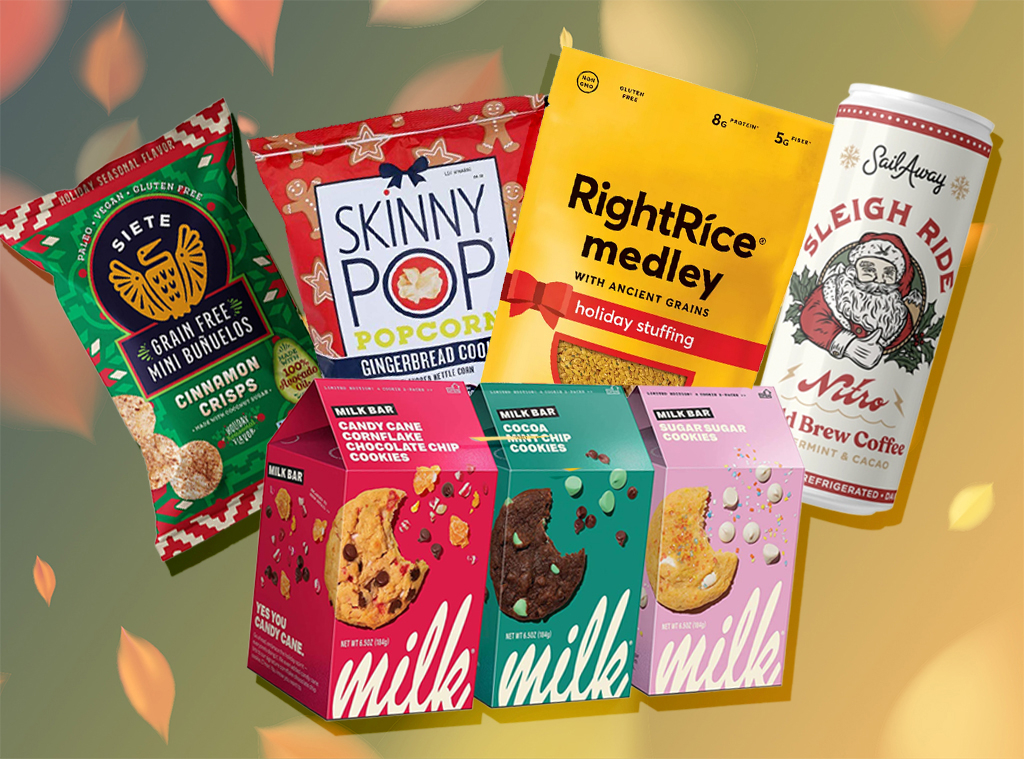 E! Illustration
We love these products, and we hope you do too. E! has affiliate relationships, so we may get a small share of the revenue from your purchases. Items are sold by the retailer, not E!
It's the most delicious time of the year: seasonal snack season! No, we didn't get that wrong as we fully believe one of the very best parts of the holidays is food companies bestowing upon us an avalanche of festive foods. For us, when it's comes to peppermint, gingerbread, snickerdoodle, the limit does not exist. And given that it's, you know, 2020, now more than ever we need to seek joy wherever we can, so why not find it in the snack aisle? 
We've rounded up 25 items that are sure to keep your spirits high throughout the month of December and beyond, including some paleo, keto-friendly and dairy-free options. 
read
16 Sweet, Savory, Salty and Spicy Vegan Snacks You Can Buy Online
So whether your craving snickerdoodle cookies for breakfast or want to wind down with some peppermint-flavored chocolate at night, we have just the good tidings for you…
Mush's Overnight Oats
Breakfast is the most important meal of the day. And thanks to Mush's overnight oats—especially the seasonally appropriate apple pie and limited release snickerdoodle flavors—it'll also be your most delicious one. (The fact that we can pronounce all of the minimal ingredients is just the bow atop this pretty package.)
Lesser Evil Mixed Holiday Box
Forget stocking stuffers. This year, we're all about pantry fillers and your snack cabinet will be stacked with Lesser Evil's holiday goods. In addition to two popcorn flavors—white chocolate matcha and dark chocolate + Himalayan pink salt—there are also gingerbread cheesecake mini-cookies and a gingerbread take on the brand's cult favorite paleo puffs. 
Gingerbread Oreos
Is it truly the holiday season without a special release from Oreo? 
M&Ms Seasonal Variety Pack (4 Pack)
Fun fact: Our countdown 'til Christmas doesn't start until M&Ms unveils their annual flavor. This year, white chocolate sugar cookie joins white chocolate peppermint and chocolate mint as part of the beloved candy's line-up. May we suggest adding them to your sugar cookie batter for a dessert Buddy the Elf would faint over? 
Wild Friends' Seasonal Variety Pack
Why choose just one traditional holiday flavor when you get to enjoy peanut butter that's of the gingerbread, pumpkin spice, sugar cookie and chocolate pumpkin spice variation? It'll be so easy to take your toasts, sandwiches, oatmeal, etc. to the take next level with these jars. OK, who are we kidding? You will also end up just eating this goodness straight off the spoon. 
Sail Away Coffee Co.'s Sleigh Ride Cold Brew
The best part of waking up is having peppermint and cacao in cold brew. Born and brewed on Long Island, Sail Away Coffee Co.'s Sleigh Ride is Christmas in a can that'll keep you caffeinated all season long. Sing it with us: All we want for Christmas is this brew.
Larabar Seasonal Variety Pack (6 Bars)
When you're in need of a quick snack but don't want to have to overthink it, grab a snickerdoodle, gingerbread or pumpkin pie-flavored bar. Made with fruits and nuts, these little guys are as nutritious as they are delicious. 
Siete Mini Buñuelos
If you're already a fan of this Texas brand's grain-free chips and taco shells, dairy-free queso and more, prepare to fall in love with their limited-edition cinnamon crisps. Made with casava mesa and sprinkled with a coconut-sugar, cinnamon, and vanilla seasoning, Siete's seasonal offering may just become your family's new tradition.
Angie's Boom Chick Pop White Chocolate Peppermint Popcorn (Pack of 12)
We bet this candy-coated popcorn would totally be a dream Christmas dinner or Scandal's Olivia Pope. 
Ono Overnight Oats in Peppermint Cocoa (6 Pack)
Remember when you were a kid and dreamed of having dessert for breakfast while your mom was forcing you to eat toast? Rejoice, Ono Overnight Oats is here to help make your childhood fantasy a reality with their peppermint cocoa oats. Oh, and you'll also start your day with 25 grams of protein and 8 grams of fiber. See, adulting can be fun!
nutpods Winter Collection (3 Pack)
Sometimes you need a little break from the sugary treats but not their sweet taste. Sugar just hits different after you hit 30, you know? That's why we love these dairy-free and plant-based creamers in three fun flavors: holiday nog, pumpkin spice and peppermint mocha. And if you're following keto or Whole 30, these pods are compliant. Merry Christmas, ya clean animals!
Smashmallow Candy Cane Marshmallows
Who says s'mores are just for summertime? It's 2020, there are no rules, so there's no one stopping you from making a Christmas-themed version of the campfire classic with these fluffy confections and a piece of peppermint bark. 
Health-Ade Kombucha in Holiday Cheers (Pack of 12)
We'd usually accuse Christmas of totally selling out by having a Kombucha flavor, but it's so delicious we don't even care!
Milk Bar Soft-Baked Holiday Cookie Variety Pack
Send your early apologies to Santa because there is no way these are lasting long enough to leave out for him on Christmas Eve. With flavors like candy cane cornflake chocolate chip, sugar sugar and cocoa mint chip, he can't really expect you to though, right?
barkTHINS Dark Chocolate Peppermint Pretzel Thins
The perfect blend of salty and sweet, these pretzels are sure to satisfy any craving you might be having.
Celestial Seasonings Gingerbread Spice Tea Bags (Pack of 2)
Tea, please! What better way to unwind after a long night of wrapping gifts than with a steaming cup of herbal tea for the perfect soothing-yet-spicy winter flavor. (They also offer a candy cane lane green tea if you're into that sort of thing.)
Ghirardelli Peppermint Bark Squares
C'mon, do we really need to justify this one? We can always go for this classic come Christmastime.
The Original Donut Shop Peppermint Bark K-cups (18 Count)
Drinkable peppermint bark? The holiday gods are too kind!
Foodstirs Ugly Sweater Cookie Baking Kit
Why wear an ugly sweater when you can eat one this season? This adorable decorating kit includes an organic sugar cookie mix, icing,natural green and red sugars and a reusable cookie cutter. Wearing your own cheerily decorative jumper while making them is totally optional but highly encouraged.
RightRice Holiday Stuffing
Who says stuffing is just for Thanksgiving and Christmas? RightRice put a new and healthy twist on the holiday classic by using ancient grains and savory herbs like thyme, rosemary, and onion. Pro-tip: pair with sausage and fried egg for a festively filling breakfast. 
Skinny Pop Gingerbread Cookie Flavored Kettle Corn
Once you Skinny Pop, you really don't stop, especially with this spicy and sweet take on one of the most beloved snack foods. We highly recommend trying to catch this gingerbread, man.
Need some snacks with a little less seasonal cheer? Fine, ya Grinch, here are some delicious options to check out.
Want the best Cyber Week deals and holiday gift guides delivered straight to your inbox? Sign up for the Shop With E! newsletter!